Supreme Protein Carb Conscious Bar 50g Box of 9




    Retail Price:RM 69.00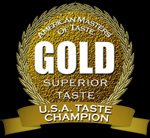 Your Price:RM 49.00
   You Save:RM 20.00 (33% OFF)


Flavors available:
Chocolate Caramel Cookie Crunch
Cookie N Cream
Peanut Butter Crunch
Rocky Road Brownie
Peanut Butter Petzel Twist
Peanut Butter & Jelly
Caramel Nut Chocolate
---
Please note that we only carry Supreme Protein Bars of 50grams (15grams protein).
Advertisement banners are for display purpose only. 
Click on the picture to see what Joe Flacco says about Supreme Protein Bar
Talk about the complete package! We think nothing delivers higher quality protein with more sensational flavor than the amazing new Supreme Protein bar. Unwrap one of these delicious muscle-building treats and you'll be thrilled at how unbelievably good it truly is!* The original Supreme Protein Carb Conscious bar is packed with premium-grade protein blend, powered by more high-quality whey isolate than any other product of its kind. This pure and powerful protein is formulated with amino content, bioavailability and muscle-building benefits.*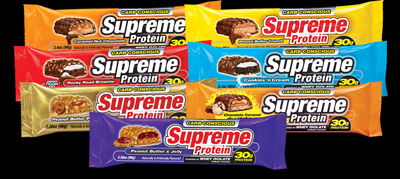 Delicious Candy Bar Taste
Low Carbs
Made with Rich Chocolate
Filled High Quality Protein
At the same time, they also contain healthy fats, including flaxseed oil, an excellent spectrum of vitamins and minerals and zero trans fat. The only thing better than this nutrient profile is its amazing gourmet taste. With rich chocolate, peanuts, protein crisps and caramel, you'll want to double-check to make sure you're not eating a candy bar. But don't be fooled by the outrageous flavor. Supreme Protein is first and foremost a remarkable high-performance super-food that delivers the quality nutrition you need to achieve serious results from your training or fitness program. Powered by ultra-pure, premium-grade whey protein isolate, these amazingly delicious sports bars represent the ultimate combination of flavor and function.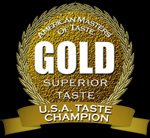 "Our Chef Tasting Panel was so completely amazed by the delicious taste and home-made candy appearance and texture that they awarded the Supreme Protein bars the Gold Medal for Superior Taste."
- Jesse Sartain, Chef du Jury and Master of Taste, American Masters of Taste

The scientific debate over which form of protein possesses the greatest anabolic power came to an end a few years ago, with one form emerging the clear winner. Compared to whey concentrates, caseins, milk or soy proteins, whey protein isolate (WPI) contains the highest amounts of the valuable microfractions in whey that support increases in lean muscle mass. It has higher concentrations of the essential branched chain amino acids L-isoleucine, L-leucine, and l-valine, and is a rich source of the powerful microfractions alpha-lactalbumin and glycomacropeptides, which are key factors in enhancing bioavailability, boosting immune response and greatly increasing anabolic activity.* Whey isolate also has demonstrated a nutrient partitioning effect, driving nutrients away from fat storage and toward accumulation of lean muscle tissue.* Finally, high quality whey protein isolate contains no fat, lactose or impurities.
Clearly, premium-grade whey protein isolate is your best muscle-building protein value.*

Please note that we only carry Supreme Protein Bars of 50grams (15grams protein). Advertisement banners are for display purpose only.